Disclaimer: This post is about how I, personally, started a writing habit. It's not a writing every day sort of thing, but near enough. However, I know that this doesn't work for everyone. Every writer has a different process, and this is not supposed to be prescriptive in any way. Ultimately, you gotta do what works for you! (And that may change from project to project)
I'm lazy. I have a tendency to take the path of least resistance. In some cases, that's actually not a bad quality to have! When it comes to my writing… *handwaves and ehhhhhh noises*
I should do some writing BUT I just got home from work and I'm tired and I need to make dinner and take care of the dog and now it's like 9 pm and I'm tired and the couch looks comfy and there's a new episode of Chopped on and look at that now it's bedtime I'll just have to write tomorrow but I have that errand to run and well we can write the next day then okay yeah sounds good.
Repeat ad infinitum. The specifics of the stuff after the BUT would be swapped out depending on the day.
I've tried writing everyday before, but any time I'd fall behind I'd beat mentally myself up. That would create a cycle where writing just wouldn't happen.
I tried creating spreadsheets to track daily word counts. And I set goals and deadlines. But again those didn't work for me. I think they didn't work because they didn't account for time spent thinking and plotting. Those activities don't always result in words on the page in the rough draft. Sometimes they are just thoughts. Other times they get written down as notes. But ultimately I couldn't figure out how to work them into my idea of progress as measured by Excel.
So what changed? How do I now have a (probably premature to say this) successful writing habit?
I changed what counts as success. And I changed what I use to track progress over time.
Gamify Your Life!
Okay, annoying attempt at a marketing tagline aside, this helped. I've always been drawn to to-do lists, checklists, what have you. So I knew I needed an online way to do that.
Ignoring the marketing bullet points, Strides gave me what I needed; a way to:
a) set goals online with a variety of metrics to choose from
b) track progress
c) see that progress over time
Instead of just having a word count goal, I set up a "Writing X of Times per Week" goal. From past experience I knew trying to write 7 days a week wouldn't work. I settled on 4 days per week. It's a little over half, gives me a "weekend" off if I want it, and seemed–this is important–like an achievable goal.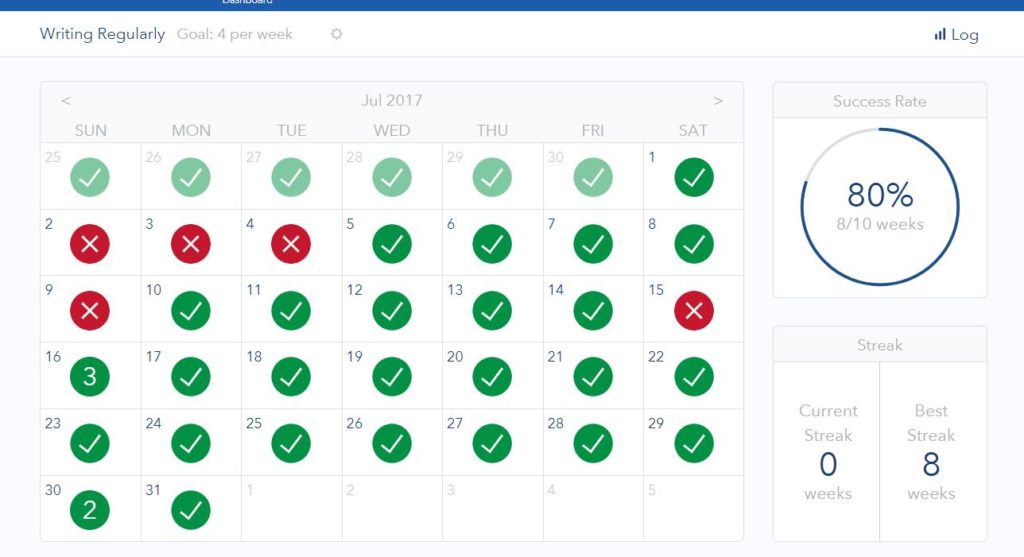 There were no other strings attached to this goal. And even the name is a misnomer. The goal wasn't necessarily writing four days per week, but just focusing on my work-in-progress on four days (non-consecutive even!) during a week.
Added a few paragraphs to a rough draft? Success!
Worked on an outline for later chapters? Success!
Spent an hour doing character sketches or some worldbuilding in a notebook? Success!
This system allowed me to place greater value on the creative parts of writing a novel, not just the "writing" part. And it worked! There were a couple of weeks, especially in the beginning where I was still building this habit, where I missed the mark. But right now I am at 20 consecutive weeks where I've hit that goal of working on my novel projects at least four times a week.
I'm using the free version of Strides, so it only keeps my data for small periods of time. But it works!
And now that I got that habit on its way to being entrenched, I added another goal. I did what had gone so wrong before: I created a word count goal.
For whatever reason, telling myself that rough drafts can be bad has finally stuck. This time my word count goal isn't hindering my progress. If I write only add 50 words to my draft, I record that. It's okay. It counts toward my 4 times per week goal, and it adds to my word count total.
Back to those Caveats
This post is what I found worked for me. Maybe something similar would work for you? Stride is (kind of) flexible so you might be able to add your goals to it. There are other gamify goal tracker to-do list apps too. For example, Cat Rambo references Habitica in this post. As a big ol' RPG nerd, I'm definitely going to check it out.
And hey! Maybe none of these works for you. Maybe you don't need a system to codify your progress, or you work better without a set schedule. I know Kameron Hurley's talked about how she works well by writing in big chunks on the weekends.
Like I said before, experiment. Find out what works for you for that particular project. And good luck!
Addendum 8-1-17
Since I started this post, I've made a couple of changes to how I track my writing habit. I still use the "4 Times per Week" goal, but I've added a more traditional "Word Count Goal" as well. I did that because deadlines occasionally motivate me, so I set a goal to write 75,000 words before 8/31 in this hybrid outline/draft thing I do.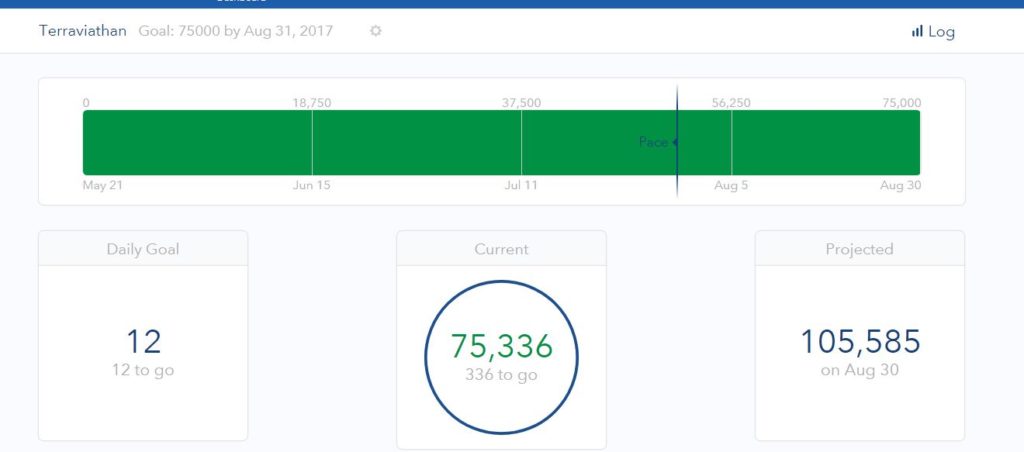 Ignore the Daily Goal part. That's a bug in Strides that they're fixing.
I think part of the reason why an "X Words by Y Date" goal worked for me this time is because I'd already spent months laying the groundwork. I built the momentum of writing every day, so I was able to set a word count goal without it causing me to shut down.
This is also a special case because I'm reworking an old draft. So I'm able to copy and paste large chunks of text in between new sections. This definitely inflated my word count, but *insert I don't caaaaaaare gif here*