I have some thoughts about Aftermath by Chuck Wendig and the state of the Star Wars Expanded Universe in general. On the one hand, it's kind of exciting to start with a fresh slate; the byzantine EU of decades of comics, books, RPG tie-ins, video games, and more is gone. So the post-Return of the Jedi universe is brand new for everybody. But on the other hand, I have some questions and thoughts about what Disney's doing. And finally, I have some specific thoughts about Wendig's book–the first official canon, post-RotJ story that's going to help set the stage for The Force Awakens.
The New Expanded Universe
I wish I could be a fly on the wall inside Disney. I want to listen in on their Star Wars-related conversations and meetings. And I wish I could get a behind-the-scenes look at the communication between Wendig and Disney. Because the entire old Expanded Universe is now marked as "Legends" then it stands to reason that pretty much everything was thrown out.
But at the same time, in order to keep a sense of continuity between this new canon and the old canon, some stuff's been retained. For example, Aftermath makes a reference to a Carrack-class cruiser. If I remember correctly, that ship was first introduced as part of an RPG sourcebook. Wouldn't that be part of the old, discarded EU canon?
What gets to be included in the new canon and what is truly gone? Or are things like ship classes not really gone, just on a back shelf until an author, comic book creator, video game company gets permission from Disney to resurrect them? The nerd in me wants to know!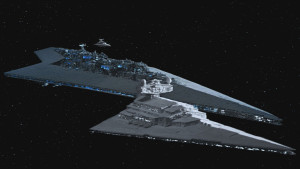 This is especially poignant when you consider the epilogue to Aftermath. I won't give it away because spoilers, but if it turns out the way I'm hoping… then it would be really cool and another instance of something from the huge Ex-Expanded Universe finding its way to the new canon.
Sidebar: It was hilarious and a bit of a trip to open Aftermath and go to the page where it said "The DelRey Star Wars Timeline" and there were only like 10 things. It listed the 7 movies, Rebels, and a couple of other official books. For somebody's who's used to the two-page spread that goes from 10,000 BBY to over 100 years AE seeing such a short timeline was weird.
Aftermath: The Book
So that was Aftermath as a cultural artifact, but what about Aftermath the book? It was okay. I appreciate what Wendig is trying to do with the use of present tense, but it's not really my bag. It's definitely a "Wendig book" through and through, but with the inventive curses from the Miriam Black series replaced with Star Wars sanitized versions.
Sidebar: He really likes the phrase "pistons a fist" to refer to somebody punching somebody else. "Character Y pistons a fist into Character X's side…" It was really prevalent in the last few chapters. 
My biggest complaint about the book is that it felt long. And for being a Star Wars novel, the first new one post RotJ, the action felt confined–makes sense as the book was set mostly on one Outer Rim planet, Akiva.
Wendig attempts to give a more galactic perspective with numerous interludes, but to me they just slowed things down. Hopping from world to world–many of them not featured in previous books/comics/etc. (at least as far as I know) and spending a brief few pages with random characters… It was hard to care.
The more successful interludes were ones that focused on Mon Mothma and Admiral Ackbar.
Another thing that bothered me–and will probably be addressed in future books–was how vague everything was. With only interludes giving glimpses of the galaxy at large, I was left wondering:
How long ago was Endor?
Have the Rebels taken Coruscant?
How long does it take to get from planet to planet?
The last one is more important than you might think. It's an important plot point where Imperial Admiral Rae Sloane is figuring out whether to withdraw. She says that the New Republic could have a fleet to Akiva in a few hours, a fleet large enough to take on her three Star Destroyers. And it just made me think? Where would they be staging from? I was under the impression that it sometimes took days in hyperspace to get from place to place. It was just a potentially incongruous bit to the novel.
As for the other two points: the interludes try to give you a bigger picture, but most of the time the only other hints you get are exposition from characters. Over and over characters mention Imperial governors have been defecting to the New Republic. It's also mentioned that somebody within the Empire has been feeding intelligence to the New Republic to facilitate their string of victories, but what string? How many? Where? When?
Here's a thing I had 0 problems with and want to point out with a big ol' fuck yeah: Three of the main characters are women. Admiral Sloane is a woman of color. Multiple characters are gay. Yes. The Star Wars galaxy is a big fuckin' place; it's characters should reflect how wide and diverse it should be.
A lot of my issues with Aftermath's pacing come from the fact that it's the first book in a new trilogy, and the first new canonical book in the timeframe leading up to Episode VII. So it's gotta spend some time setting things up; I just feel like it took a bit too long to get there. I mean the Inglourious Basterds vibe I got at the end where a second book might go was super cool. Admiral Sloane is super cool too. Give me some space battles! Give me the Empire turning into an insurgency. Cool stuff. Personally, I'd love to see his new characters interact with the OT heroes a bit more. The glimpses we got of them in the interludes weren't enough!  (But please never refer to Coruscant's city as Coco-Town ever again. Please.)
All things considered, I can't wait to see where Wendig goes next. It's a big 'ol galaxy of narrative potential out there waiting to be explored.