YRP: Girl Power
It took me over 10 years to finish Final Fantasy X-2. It took multiple tries, a completely different console, and an HD upgrade for me to get it done. It wasn't the game's fault that I never finished it before; the blame is entirely at my feet.
You see, Final Fantasy X-2 is the first direct sequel in the Final Fantasy franchise. As I said in my write-up about Final Fantasy X HD, I was in high school when that game came out. It was one of the first PS2 games I bought, and it blew me away. Those graphics, that voice acting, those character models–so realistic when compared to the weird Popeye-esque blocks of Final Fantasy VII or the blurry pixels of Final Fantasy IX, and of course, that opening Blitzball scene.
I loved it. I loved playing Blitzball, filling out the Sphere Grid, and the story-focused nature of the whole affair. No more wandering around a zoomed out world map wondering where to go.
FFX-2 abandons all of that. As Todd Harper said on Twitter (apologies for paraphrase! I never saved the original tweet), it's like the producers at Square Enix purposely made a sequel that had none of the things that gamers liked in the first one.
I hated it. You see, like most 14-15 year old boys, I was a bit of a fuckhead. "It's too girly. It's too gay. Tidus isn't even in it. You just play dress-up." Yup. A little fuckhead, just like Tidus really. That's why Leigh Alexander's recent essay really hit home for me.
Fast forward a few years: I'm a bit older, a bit less fuckhead-y. I understand that Final Fantasy X-2 is purposely trying for a different tone: a JRPG Charlie's Angels with a fast-paced battle system and an emphasis on fun. And it works. Oh yes it works.
But where FFX is a relatively linear affair, FFX-2 breaks up its plot into chapters and in each chapter you have certain locations (Hot Spots) you have to go to in order to advance the story, but everywhere else is optional. You can do some sidequests, then do a Hot Spot story mission, and then go back and do some more sidequests. This structure makes the game feel more open and less constricting. That's all well and good except for one little thing that makes one of my biggest gaming neuroses kick in: FFX-2 has a completion percentage counter.
According to Mitch Krpata's "A New Taxonomy of Gamers," I'm something of a Tourist with Completionist tendencies. I like to see what a game has to offer; I don't need to get the highest score possible or top an online leader board. However, I try to find as many secrets as I can, collect as many collectible thingies as I can, do as many sidequests as possible without annoying amounts of effort (which varies from game to game). These personal tendencies are what drove me away from FFX-2 on my second and third attempts. I wanted to get 100% completion and see the secret, best, ultimate, etc. etc. ending. Maybe I could have just tried to find a recording of the ending online (more on that later), but back then doing something like that was out of character for me.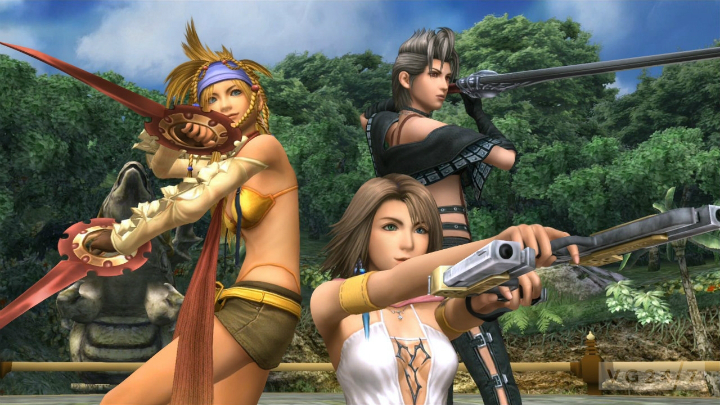 Fast forward to 2014. I've sold my PS2, sold FFX-2 (but I've held onto X), and sold the tome of a player's guide I had used on my previous attempts. I tell my wife that the HD remaster of X and X-2 is available and she convinces me to buy it. We're going to play both games together. Luckily I know FFX well enough that we're able to get through it pretty quickly. (See my thoughts on the remaster here)
She enjoyed the characters–especially comparing Auron to Teen Wolf's Derek Hale (it makes sense, trust me)–and the overall story. Understandably, she was less than happy at the more game-y, RPG-y parts of the experience. Luckily, we struck a deal where I was able to grind "off-camera" so to speak and we'd play together whenever I made story progress.
As soon as I finished we jumped into the sequel. I warned her that I'd only ever reached Chapter 3 one time so I didn't remember as much of this game as the first one. We also set the ground rules that I would try to get as much completion percentage as possible and that we'd just watch the secret 100% ending online. (10 years later I now value my leisure time more than I did when I was 15)
Right off the bat, FFX-2 throws the melancholy tone of FFX right out the window. I mean, the opening cutscene is like a J-Pop music video. It's silly. And I mean that in the best way. It's silly, over the top, and amazing. This game takes Yuna and Rikku (revealing default outfit aside) and adds in newcomer Paine and throws them together in a globe-trotting, girl-power fueled adventure.
However, the game's episodic nature didn't appeal to my wife. She knew going in that Yuna's journey was in part about finding Tidus, but she expected that to really take the driver's seat. Looking back on the finished experience, it really doesn't. FFX-2 is more about exploring Spira and seeing how Yuna's victory in the first game has changed things.
I guess if you just played the mandatory Hot Spot missions in order the story would be more cohesive. But if you do that you'll miss out on tons of completion percentage points. Some of the sidequests in X-2 are character-driven and reveal more about Paine or more about what happened between the two games. And others are: selling balloons or participating in a coin-based mini-game. I didn't mind them because I was trying to get as much completion as possible, but my wife wasn't too pleased. She wanted more story stuff, more character interaction, and more shipping.
I mean it all comes down to the overused adage: your mileage will vary. I absolutely loved the parts where the Gullwings were together on the airship or fighting/working with the Leblanc Syndicate. Plus the funky music played aboard the airship is really fun. The main story was good, and it was nice to see Yuna be more outspoken; this was her Calm after all.
Even if you get annoyed with the way the plot kind of meanders through chapters and some random sidequests, the game plays great. Eschewing the turn-based battle system from before, Final Fantasy X-2 returns to a more active system. Plus you can change the character's dress spheres (basically classes like warrior, thief, mage, etc.) on the fly. It creates a rather frantic energy to fights, and boss fights can be downright tough if you're unprepared. There's a ton of depth and with the monster capturing/raising sidequest included in the HD remaster, I know I barely scratched the surface of FFX-2's character and class-building content.
Final Thoughts
Again, your mileage will vary. If you really, really liked FFX's battle system, know that this one is completely different. Todd really hit the nail on the head; aside from setting and characters, almost every aspect of the first game doesn't carry over to the sequel. In my opinion, it works. It really does.
I think part of my wife's problem came from the fact that we had just finished Tales of Xillia before starting on the X & X-2 collection. She was used to more modern conventions, an even more active battle system, and little skits and vignettes bewteen the main characters all the time. Still, I consider my money well-spent. I finally finished Final Fantasy X-2 eleven years late, but I'm glad I finally did. While I'm sad I was too much of a fuckhead to play it years ago, I feel like this HD remastered collection is the definitive way to play these two games.
Statistics
Game: Final Fantasy X-2 HD
Platform: PS3
Release Date: 3-21-14
Completed: 5-2-14
Trophies/Achievements: 28% (10/35)